Created in 1987 by CSNAF (French Trade Association of the Funeral Industry), Funéraire Paris reflects the founders' philosophy.
It's a real business place bringing together all the manufacturers from the funeral market as well as all the sector's professions.
Traditionally held every two years at the Parc des Expositions Paris Le Bourget in the third week of November, with 20% international participation, Funéraire Paris welcomes 250 exhibiting companies and nearly 6,000 visitors.
WHO ARE THE EXHIBITORS?
COMMEMORATION
Bronzes • Ceramics / Porcelain • Artificial and natural flowers • Personalized memories • Plaques • Sculptures • Vases
GRAVE
Columbaria • Monuments • Urns tomb • Vaults
CEREMONY
Announcements / Register of condolences • Audio / Music • Ceremonial clothing • Coffins • Hearses and limousines • Layout and decoration of ceremonial rooms • Linings • Urns • Funeral hardware
SERVICES
Conception and manufacture of funeral complexes, cemeteries, columbaria • Funeral contracts (banks, insurances)
• Administrative procedures 
• Data processing: software • Internet: web platform • Maintenance of burials • Metals Recycling • Rapatriation  
MACHINES AND TOOLS
Stone or plastic plates engraving machines • Printing machines • Stone working machineries • Excavation equipments • Gear: lift machines, excavator • Incineration equipments • Tools and supplies 
TREATMENTS
Cold storage • Equipments and products • Embalming
FUNERAL DISTRIBUTORS
Funeral franchise networks • Funeral groups • Funeral networks
PRESS AND PROFESSIONAL ORGANIZATIONS OF THE FUNERAL SECTOR
Associations • Federations / Confederations • Formation • Press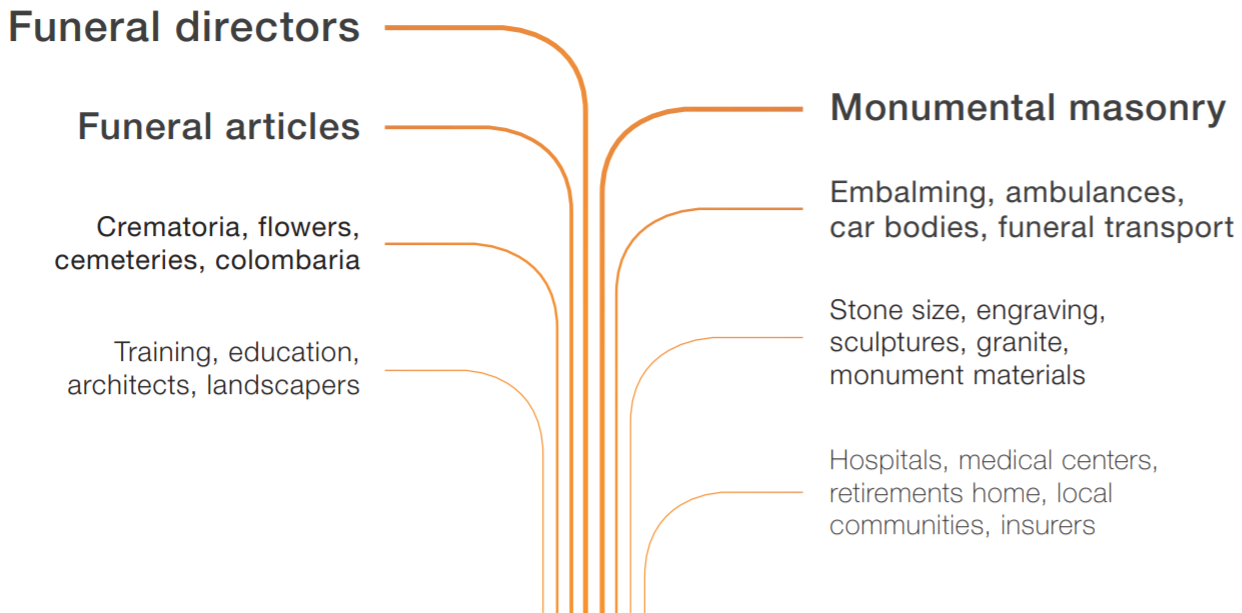 Newsletters
Subscription to the newsletter to receive
all the news of the show recevoir.
Order your badge
Order your badge to access the show
on 17th, 18th and 19th of November 2021.